On August 28th 2011,
we did planning of the sound system and the sound projection at "
Toshiro Mayuzumi
's All Electronic Music Performance" sponsored by
JCMR KYOTO
.
We are not a musical engineering group, but we played back Toshiro Mayuzumi's electronic music based on 'Music of New Reference' which was developed from the event we held in the past.
Hopefully we will release the method in some way.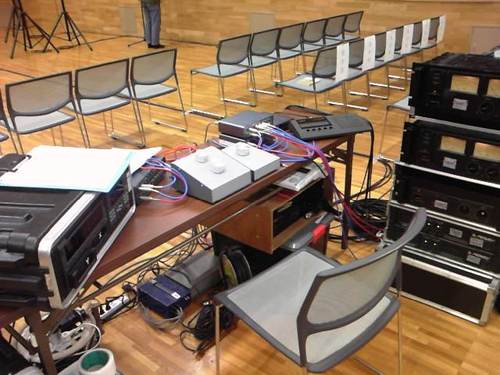 Archives data
Date  Aug 28, 2011
Place  Kyoto Art Center
Planning Koji Kawasaki
Organized by JCMR KYOTO (Yoshihiko Shimizu, Nao Takeuchi, Mayu Masuda)
Part1
start 14:30 PM
1.X, Y, Z for musique concrète (1953)
2.Boxing for Radio Drama (1954)
3.Music for Sine Wave by Proportion of Prime Number (1955)
4.Music for Modulated Wave by Proportion of Prime Number (1955)
5.Invention for Square Wave and Saw-tooth Wave (1955)
6.Variations on Numerical Principle of 7 (1956)
7.Aoi no ue (1957)
8.Campanology for musique concrète (1959)
Part2
start 17:30 PM
9.Campanology Olympica (Olympic Campanology) (1964)
10.Three Hymns for tape (Mittsu no San) (1965)
11.Campanology for multi-piano (1967)
12.Mandala for solo voice and electronic sounds (1969)
13.Seimei no Sanka (1970)
14.Tanjyo(1970)
15.21 seiki eno message(1970)
16.Ongaku wo sozai ni sita musique concrète(1971)
17.Dice fantasy(1971)
18.Sekai kyuse kyo -Tenrei Ongaku-(1971)
19.The Kabuki -Prologue-(1986)
20.Invention for Byakusangai Darani (composed by Yoshihiko Shimizu, 2011)